The Best Card Games for Family Game Nights
Animatopica is super, super committed to making the best card games for kids, teenagers and adults. We make family-friendly card games for game nights. As a family, you sometimes want card games to play with kids, the best clean card games that have no bad language.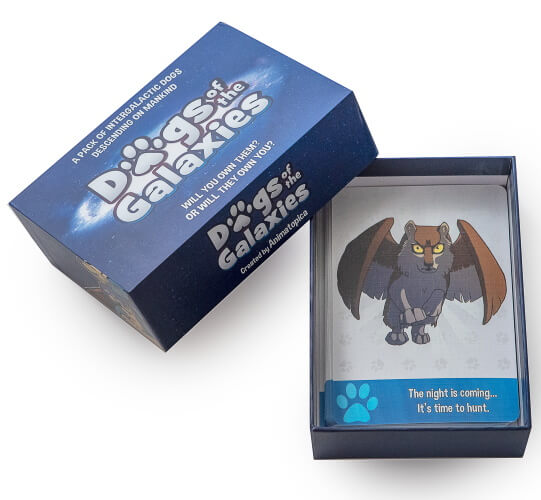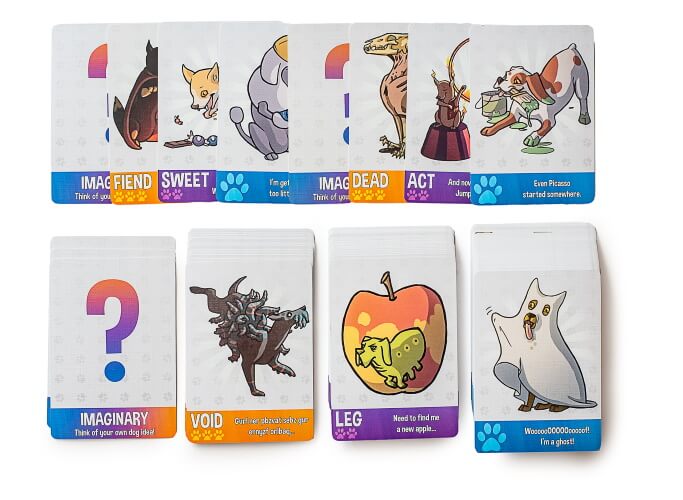 What is Dogs of the Galaxies?
Dogs of the Galaxies is a card game for people not embarrassed making crazy faces, uttering weird words or barking "woof", "woof" while wagging the tail. Perfect for your next game night. Below are a few reasons why you, your family or friends will love it.
Watch short How-to-Play video below
If you'd rather read How to Play Dogs of the Galaxies card game, we've got you covered too:
It takes 2 minutes to learn and about 20 minutes for each game.
Players take turns drawing cards and describing the dogs in them, without showing them.
Embellish your description anyway you want. For example, describe what crime the dog committed moments ago. Or what trick it has up its sleeves.
The card drawer also mimics the facial expression of the dog described.
Others then compete to outdo each other by coming up with the weirdest names for described dogs and, sometimes, the sounds the dogs make. Coming up with the weirdest names may result in captioning the ugly faces made by others. Fun!
The player with the weirdest name, or sound, wins the point(s) for each round. The first to get 10 points wins the game.
Classic and traditional card games
Card games have come a long way, dating back to classic card games that you can play with your traditional standard 52-card deck comprising clubs, diamonds, hearts and spades. Different types of card games can be played using the standard 52 playing cards, including poker and its variations.
The types of card games that exist diversify into kinds like Trick-taking games, matching games, shedding games, catch and collect games, fishing games, comparing games, drinking card games, etc.
The world of card games today.
Developers of card games have veered off the beaten paths of old and have become even more creative. Instead of the having only the traditional card games that are played using the standard 52-card deck, all manner of ideas are today being expressed in card games to make them more interesting and original.
Whereas great grandma played only card games with clubs and diamonds, today's players enjoy card games in which they challenge and embarrass each other, or expose each other's deeply held secrets and character foibles.